So far, today has been a great day!
My Current Works-In-Progress Are:
The "Messy Nessie Crochet Baby Bib"
Today I Worked on…
…a couple of my works-in-progress, as pictured above.
…letting everyone know about Alla Koval's new crochet pattern books plus the book giveaway that's currently happening at KnittingandCrochet.net! (update: the giveaway has ended. Thanks to everyone who participated. I hope y'all had fun!)
…sending out a newsletter to my subscribers at KnittingandCrochet.net
…revisions for a freelance writing project I've been doing
Today I Ate…
Organic dates
Organic coconut
An organic omelet with leeks, chard, spinach, potatoes, and herbs
A gigantic fresh organic spinach tomato salad with herbs
Organic homemade tomato vegetable soup with sweet potatoes, leeks, and bunches of other herbs and veggies
Today's Workout…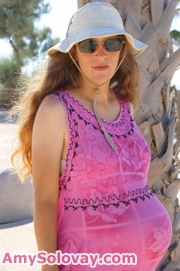 …was a long walk. We started off walking by the beach. It was a hot day, but there was a lovely breeze blowing, and the Mediterranean Sea was dotted with whitecaps from the wind.
Mike did his usual workout by the beach. While he was doing that, I walked up and down the stairs connecting the beach and the cliff several times.
I'm hugely pregnant at this point, and I'm finding that even walking slowly is getting to be a major exertion — let alone climbing stairs. But my midwife has advised me to take a walk every day, so I am walking. I also remember reading that climbing stairs helps get a baby's head settled into mom's pelvis. I definitely want to make sure my baby stays head down, and tired as I may be, this is a high priority.
From there we walked to the neighborhood grocery store to pick up a few things.
This wasn't really a workout by my previous standards, but it was sufficient to tire me out. I'm not sure how much baby weight I'm carrying, but it's probably in the range of 30-35 lbs — which for me is a massive weight gain. By the time we got back to the boat, I was thrilled to sit down and relax a bit.