Journaling from 9-15-2012 and 9-16-2012, edited 11-6-2012 – 12-6-2012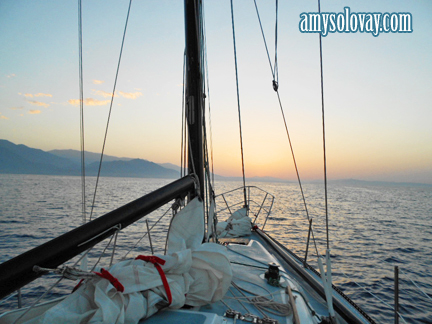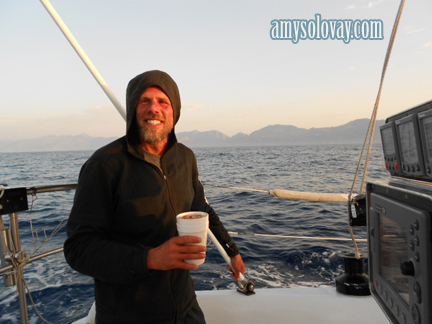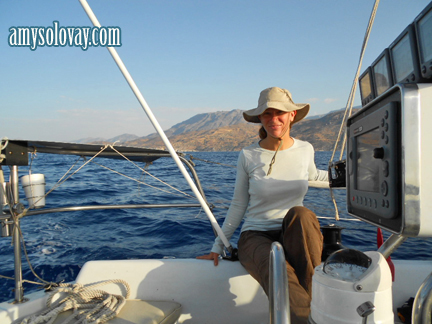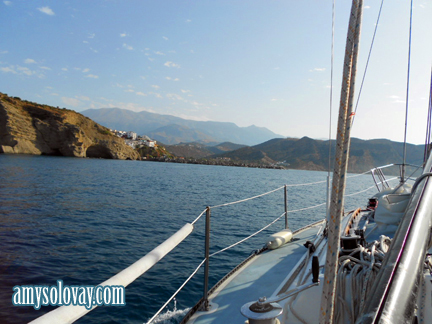 This morning we arrived in Crete. It is amazing here!
We docked the boat in the marina in Agia Galini. There are no actual docks; it is just a big concrete area with space for boats to tie up all the way around.
It was a bit of a challenge to dock the boat because, after 10 days at sea, I had "sea legs" and not "land legs." Getting out of the boat and up onto the concrete was not easy with the lifelines in place, and our dock lines were too short. The cleats were gigantic compared to what we are used to. Mike had to get out and help me (not unusual) and we managed to get docked without wreaking too much havoc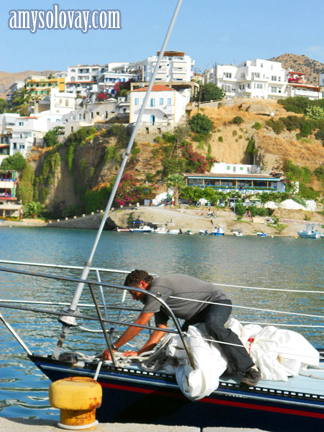 It's apparently not a busy marina.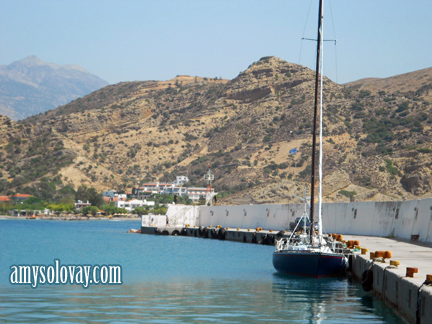 There is currently only one other sailboat in the entire marina, a small Beneteau.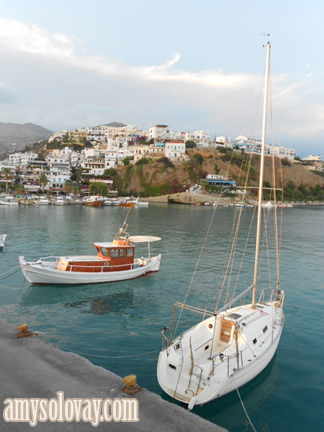 The rest of the boats in the marina are small power boats and a few fishing boats. There is also one large Hellenic Coast Guard boat.
We took a quick look around and instantly fell in love with Crete. We took some photos of us, the boat, and the marina.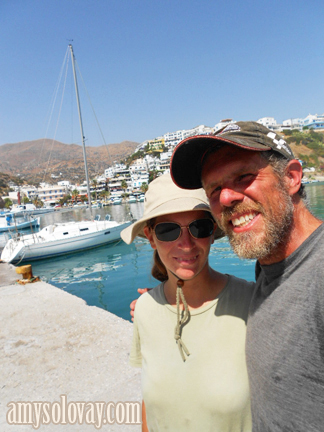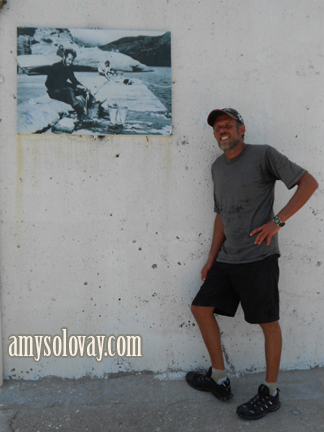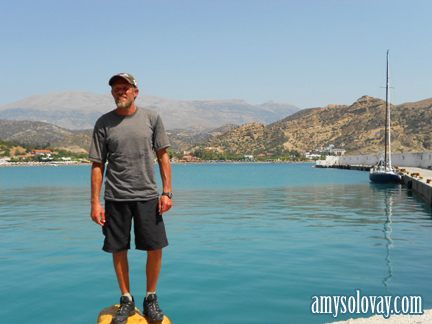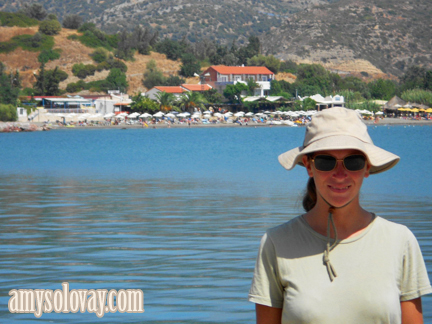 Then we headed over to the conglomeration of buildings, marveling that all the signs were written in both English and Greek.
As soon as we began to cross the street, a car came swerving out of nowhere, fishtailed around the parking lot, did some doughnuts and disappeared. I said to Mike, "Apparently, Greek drivers are crazy!"
We laughed.
We found the Hellenic Coast Guard easily and went to check in with them. They did not speak much English — only a few words. We fervently wished we knew how to speak Greek, not only during our conversation with them but also throughout the remainder of the trip. Everyone involved did the best they could to communicate, and we all muddled through it.
The Coast Guard guys didn't tell us how much the marina costs. To add to our frustration, they asked us to come back on Monday to take care of customs. They made copies of our paperwork and then kept it anyway. They didn't give us a shower key, and we didn't know how to ask for it. Odd that they are going to make us go through customs on the day we are leaving, but, whatever!
After speaking with the coast guard, we went back to the boat and Mike climbed the mast yet again.
We had been debating about whether or not to stop in Crete, and we had originally decided not to. Then the day before, a shackle broke on our headsail and our whole headsail came falling down. Even in 18-20 knots of wind our boat barely moves with no headsail and only the storm jib as a main sail. With the winds and the sea being so high there was no fixing the headsail without stopping, so we decided to stop after all.
The marina was calm enough that he was able to fixed the shackle.
We met a charming British couple from the Channel Islands, Mike and Anna. Anna told Mike that he is a brave man, because she saw him climbing the mast.
Mike and Anna have come to Crete 5 times now. Their daughter got married here; they love it here. They told us that they always stay at the same hotel because they get a great rate and the room is huge.
They told us that this marina has never been crowded on any of the occasions they've visited.
Mike told me that the area where they live by the Channel Islands has 40 foot tides (the difference between highest and lowest tides in the area, if I understood correctly — I may not have.) That's crazy!
Then Mike and I went to check out Crete.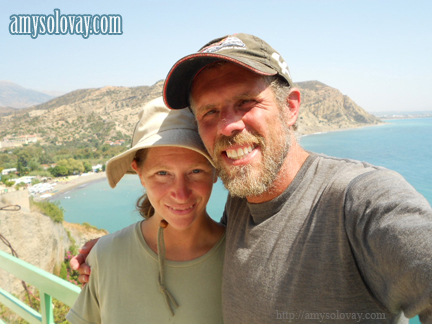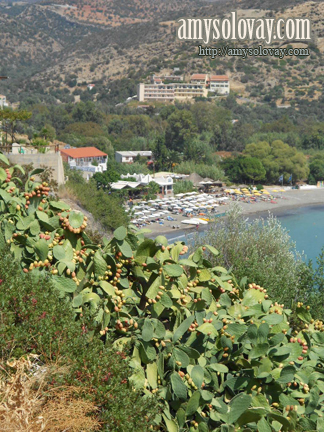 We looked in many different stores and then withdrew some money from the bank. We met a nice man named Marinos who helped us figure out where to get fuel.
When Mike went to take care of getting fuel, I stayed aboard the boat. I was going to do laundry, but Marinos came down riding a scooter, so I chatted with him for awhile. He invited us to have coffee with him after 5:00.
After Mike came back with the fuel, we met a nice Scottish man whose brother built a villa here. We marvel at the real estate prices in Greece; they are insanely cheap.
We went to the market and bought some Greek honey, yogurt, juice, produce, and various other things. The shopkeeper we spoke with was charming, and she gave us a bottle of chilled organic wine as a gift. She told us, "When you drink it, think of me."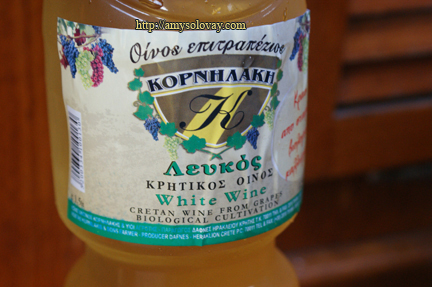 We did think of her. Since we don't have a refrigerator aboard our sailboat, we decided to drink a glass of the wine with our lunch, while the bottle was still chilled. We're ordinarily not big drinkers, but we did appreciate the opportunity to have a cold drink on such a hot day. (The photos don't really convey how hot it was.)
9-15-2012 4:44 Eastern Time, 10:44 pm Italian time, 11:44 pm Crete time
We just ate at Café Platia. I had a tuna salad and peach / orange juice. Mike had spaghetti and the same juice. Mike checked his email and we emailed some people — Mike's parents, Aunt and Uncle, the guy who bought our Alajuela, and Tokkie. Earlier we had coffee with Marinos (a really nice guy we met at the Cretan Travellers car rental place.)
My notebook pages from 9/15 and 9/16 are covered in a mishmash of Greek, English and various other languages. Mike and I were asking people to write stuff down when we wanted to remember what they were saying, or when we couldn't figure out what they were saying. Aside from the text of some postcards I wrote, there's no other journaling from those days, but we did take plenty of pictures. I will try to fill in some of the gaps from memory.
9-16-2012
Breakfast in Crete: Greek Yogurt, Honey and Fruit
Here are a couple of photos of the cafe where we ate 3 times during our short stay in Greece. I decided I wanted to try this place because they had Greek yogurt with fruit and honey on the breakfast menu. We ended up coming back because Mike and I both loved the yogurt so much.
Lunch in Crete: Fresh Fish With Vegetables
One of Mike's favorite things about coastal living: access to fresh fish. We had decided to buy some fish at the fish market; we'd stopped there the evening before, and they told us to come back in the morning. So we did.
Mike asked me which fish I thought we should get. I pointed at the pinkish-reddish looking fish in the lower middle bin, and said, "maybe those, what do you think?" Then a moment later the shopkeeper raised the price on those fish. Mike was sooooo mad! So we decided to get the grayish looking fish in the bin above instead.
I told Mike to give the store the benefit of the doubt. They probably just made an honest mistake on the price, and it was a coincidence that they noticed it right before we were going to buy some of it. But even so, we decided we weren't going back to that shop again. Nobody likes to think they are getting sucker-pricing on the things they are buying. And, there were too many other places to get interesting food in Agia Galini, anyway!
That aside, it turned out to be a good choice of fish. We went right back to the boat and cooked it up. It was delicious.
More Adventures in Crete
Then we set out to see what other adventures Crete had in store for us. We took a long, long walk. Here are some of the sights we saw: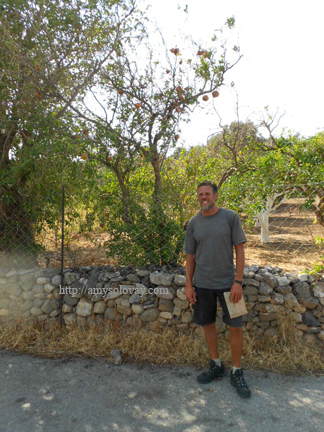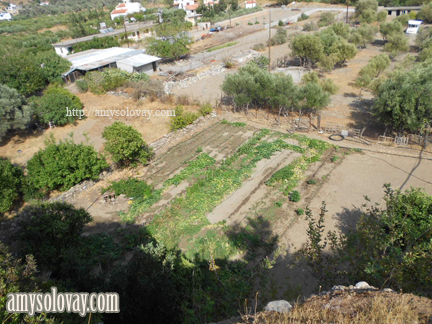 We saw what appeared to be a Greek farm, complete with olive groves, sheep, chickens and other critters.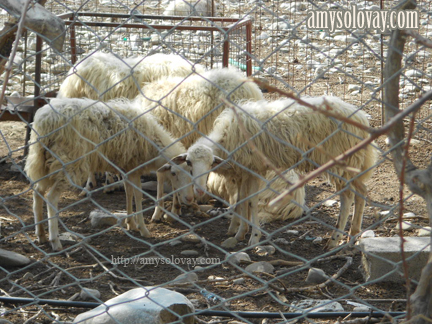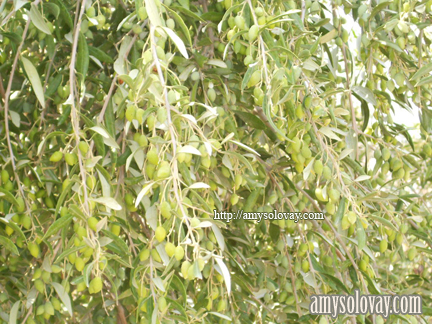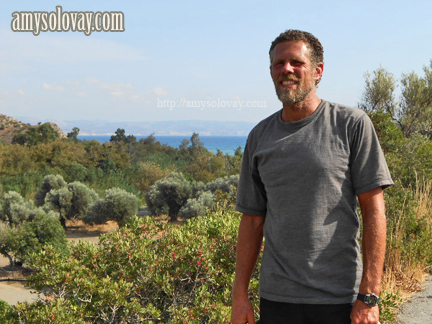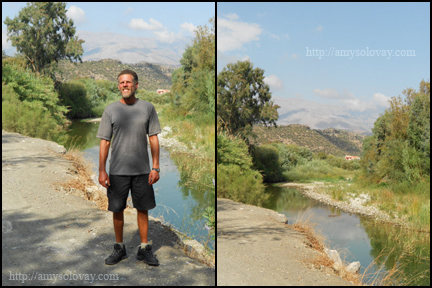 A Greek creek? Haha! Well, ok, I suppose this is more than just a creek. It feeds all the way out to the Mediterranean Sea.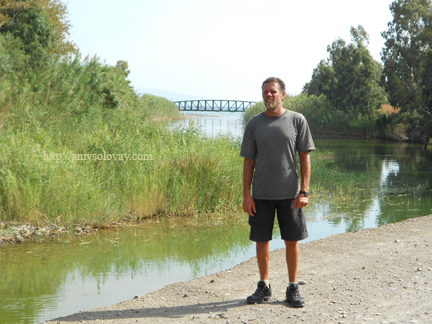 Here you can see a bridge, all the way off in the distance.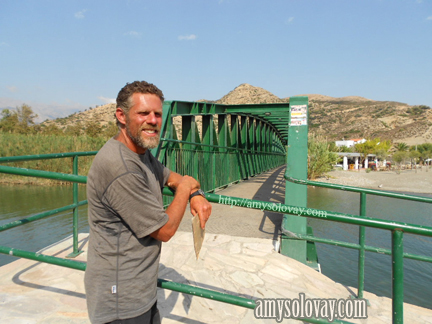 We walked all the way to the bridge, so here's Mike with it close-up.
We enjoyed the beach for awhile; it was beautiful. We also stopped to peek in one of the souvenir shops there. And then we turned around and went back.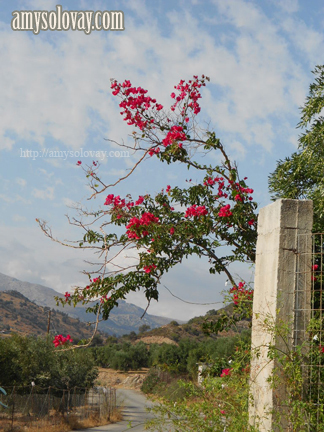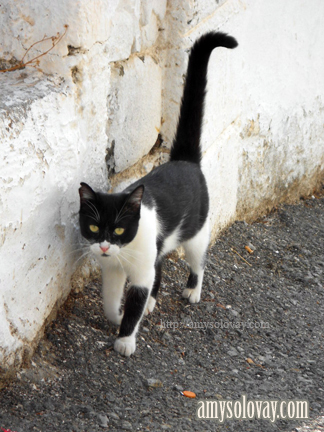 There were so many beautiful cats roaming around Agia Galini. Some of them are friendly and some of them are scaredy-cats. We photographed this black and white kitty on 9-16; the kitty was friendly, and let us get some petting in before and after we took the picture.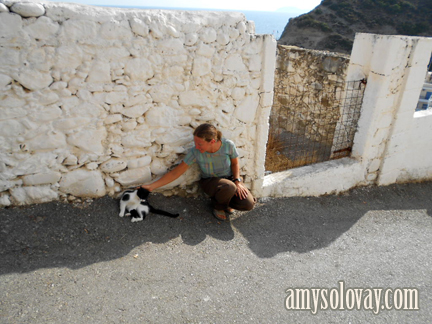 Dinner in Crete
Mike and I went back to the same cafe where we had breakfast that morning. In the evening, we enjoyed a dinner of salad, Greek vegetables and pasta.
We enjoyed our dinner. The salads were delicious, and the vegetables were OK. Mike and I both agreed that the pasta wasn't as good as the pasta we enjoyed in Italy. But, really, that wasn't much of a surprise.
The Thunderstorm
On the evening of 9-16, it thunderstormed. I was writing postcards aboard the boat, and Mike decided that we should go ashore for safety reasons. It's a good idea to go ashore any time there's lightning close by, but it's an especially good idea if you happen to be aboard the sailboat with the tallest mast in the marina!
The plan was to go back to the Internet café, order a snack and hang out for awhile. We grabbed the laptop, and I grabbed my bag, notebook and postcards, and we cleared out.
On the way to the café where we planned to spend our evening, we passed by another café / bar. We hadn't realized they had an ice cream freezer, and I pointed it out to Mike. Mike decided he wanted some ice cream, so we both placed an order. We had already met the guy who was tending bar there; he was the son of the owner of the car rental place where our friend Marinos was working. He offered us some water and a place to sit, so we sat down to enjoy our ice cream.
Then it let loose raining.
I passed the time by scribbling postcards to send to everyone back in the USA. Mike passed the time by trying to figure out what was going on in the news presented on the big screen TV. There was no sound, and all the subtitles were in Greek.
A bit later, the power went out. Thus ended the postcard-writing and the news-watching.
Awhile after that, it was still pouring, and the wind had picked up. Mike and I got worried about the boat, and wanted to make sure that she was secure.
Mike decided to brave the dash across the parking lot. He was shocked to discover that the entire parking lot was flooded and he was wading through waist-deep water to get to the boat. It was pretty scary.
The boat was fine. Whew!
Mike returned to the café, soaking wet, and that is an understatement. I was glad to see him. I had been helping the bartender bring cushions inside and was feeling anxious.
It was quite awhile before power was restored. When it finally went back on, there was cheering and clapping from the restaurant next door, which was packed with hungry people.
Mike and I never did make it to the Internet café that evening, so to our friends and family reading, if you didn't receive an email from us in Crete, you can blame the thunderstorm. You probably didn't get your postcards yet, either, because I never finished writing them. Sorry about that!
The next day we did a little more shopping and then we were on our way. Here are some photos of our boat, all stocked up for the next part of our journey.
Our adventure continues, but for now the journaling stops here. We hope you've enjoyed our pictures and journaling so far.